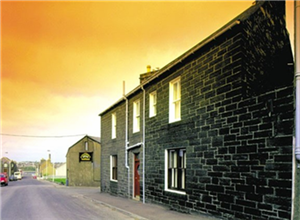 富特尼酒庄成立于1826年,位于苏格兰大陆最北的地区,距离约翰欧格罗兹村18英里。早期只能以海路到达,所以大麦及成酒都靠船来运输。时至今日,运输比从前方便了很多,但酒庄仍沿用十九世纪时的酿酒工序、甚至设备,这份坚持令富特尼受到很多崇尚传统威士忌风味人士的爱戴。经过蒸馏过程后,富特尼威士忌会蕴藏在精心挑选的木桶内,经过长年累月的蕴藏,木桶吸收了海风的味道,因此,富特尼单一纯麦威士忌都带有一种独一无二的咸味,被誉为真正的海洋纯麦酒,散发着浓郁的海风气息,而它干爽半熟的酒体更给出优雅而滑润的味觉感受。
Pulteney Distillery is the most northerly distillery on the Scottish mainland, situated in the fishing port of Wick. Established in 1826 by Mr James Henderson it was built so as the whisky produced could be easily transported by sea, the only means available at this time to the main consumers in the provincial towns of Scotland.
The distillery remained in the possession of the Henderson family until 1920, when it was sold to James Watson & son who in turn were taken over by John Dewar & son. DCL purchased the distillery in 1925 only to cease production in 1930, in 1955 Robert Cumming purchased the distillery from DCL, this gave him two distilleries, Pulteney and Balblair Distillery, both now owned by Inver House Distillers.
The main water supply to the distillery is via a lade that comes from the nearby Loch Hempriggs. In the 1890's Thomas Telford was commissioned to build this lade along with Wick harbour and Pulteney town.
Pulteney distillery has two stills, one wash still and one spirit still, producing approximately 1 million litres of whisky a year. The spirit still is very unique in shape due to there being no actual head and swan neck. This is due to the still being delivered and being too tall for the stillhouse. The manager at the time instructed the coppersmith to cut the top off thus creating the unique shape, often described as looking like a smugglers kettle.
When you step into the distillery itself it is like stepping back in time, due to the fact that the traditional ways of operating are still used today. You will not see any computers or electronic gadgets just Stillmen and Mashmen that have a great knowledge of the whisky making process and a great affection for the Pulteney they produce for others to enjoy. Even in the stillhouse modern condensers have been frowned upon and the traditional worm tubs are still used. These condense the spirit at a snails pace as it winds around up to 90 metres of copper pipe before ending up returning to the stillhouse via the highly polished brass spirit safe. Here it sits in a vessel until the stillmen /mashmen have time to put it in the finest oak casks, then off to the warehouse where it rests and matures for 12 years. Old Pulteney Single Malt Scotch Whisky is then made available so you can all savour the uniqueness of the Pulteney distillers caringly created Dram.


Pulteney Distillery 富特尼蒸馏厂